East 154th St...NOW AVAILABLE...Fully Remodeled Duplex Rented for $1,250/Mo...Great Neighborhood Near Shaker Sq...Outstanding 15.55% ROI...$10,500+ in Annual Net Returns!!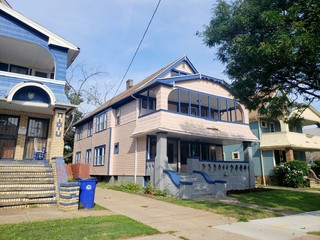 Location:
Cleveland, OH
Cleveland Income Properties is the True One Stop Shop for all your Investing Needs….
We offer quality, Real Turn-Key Investment Properties as well as the following Investment Specialists to assist you on your Real Estate Investment Journey:
• Specialists who can work with you to Maximize Your Investment Potential!
• In-Place Property Management
• Retirement Account Specialists (Buy this Property in your Retirement Account!)
• Creative Financing Partners
• Insurance Specialists....and much more!
Contact Us Today for Details:
info@clevelandincomeproperties.com
_________________________________________________________________
Property Amenities/Work Completed
This property has been fully rehabbed. Amenities include:
• Brand New Architectural Roof
• Freshly Painted Exterior
• Freshly Painted Interior
• Newly Refinished Hardwood Floors throughout
• Brand New Plumbing
• Brand New Hot Water Tanks
• Brand New Furnaces
• Remodeled Kitchens
• Remodeled Bathrooms
• Private Driveway
Rental Information
This property rents for $1,250 a month ($625 Per Unit) to Brand New Tenants on One-Year Leases. These Tenants have paid a Security Deposit equal to one month's rent at move-in. These deposits will be credited to the New Owner at closing. The Current Property Manager who places the Tenants will stay on and manage this property for the New Owner, ensuring a smooth transition after the sale.
Monthly Expenses
Property Taxes….$120.00
Insurance…$50.00
Water:… $70.00
Sewer/User Fee…$30.00
Lawn…Tenant Responsible
Gas/Electric…Tenant Responsible
Snow Removal…Tenant Responsible
Property Management… $100.00
Total Monthly Expenses: $370.00
Income/ROI Information
Total Monthly Rental Income: $1,250.00
Total Monthly Expenses: $ 370.00
Positive Monthly Cash Flow: $ 880.00
Return on Investment: 15.55%.... (Based on Sale Price of $67,900)
Cleveland Income Properties
East 154th St
Cleveland, OH 44120
View Map
All information in this site is deemed reliable but is not guaranteed and is subject to change
Price: $67,900
Bedrooms: 6
Bathrooms: 2